Novel Inspiration #45: Harry Potter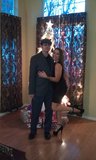 Congrats tiffanyanne3!!! This is seriously my favorite series of books. I have read them countless times I own the Harry Potter "Steamer Trunk" book set ;) I have listened to these books on audio a million times and don't even get me started on the movies. I have Harry Potter day lol I will put them on back to back my kids love it!

This is Hermione Granger's Deathly Hallows look. She can't let anyone know she is on the move with Harry and Ron so she packs everything in her purple beaded bag. Unfortunately I couldn't find a purple drawstring pouch so this crocheted one will have to do. Hermione loves layering especially since it is cold in the tent they share. Hermione is a very proud Gyrffindor so i made her peacoat and knit hat the colors of her house.