MAKE IT WORK #165: MILLY PRINTED COTTON-BLEND BROADCLOTH SKIRT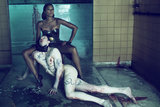 I am so sorry that I have not been to any of your books. I'm studying for the LSAT's and writing application essays, so Ive been super busy. I will get to everyone by the end of this week.

Thank you to the fabulous Tanya for inviting me to this challenge. I saw this skirt in the Milly boutique on Madison Avenue and its amazing in person as well.