Modern Makeover #92: Hedy Lamarr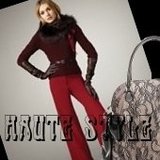 Congratulations once again Miss Bea Heyvin on your Cleopatra win! Your look blew me away!

And so does your choice of women for this week's challenge! I couldn't be more thrilled to style this woman, as she and my mother looked so much alike when they were young! I can almost see my mother in the picture I used for in the layout itself. So this look is in fact dedicated to not just one, but two beautiful and incredible women! Thank you so much Miss Bea Heyvin for this wonderful challenge. Hope my look doesn't disappoint.